Maths Competition
Maths Competition
6 February 2020 (by admin)
Four Year 5 children entered the Explore Learning Mathematicians' Awards Competition.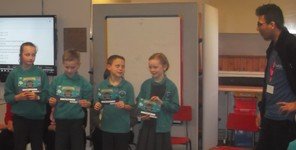 On the 15th January they attended the Explore Learning tuition centre in Wakefield to compete in The Team Challenge against other schools in the area.
They had to tackle a never-before seen problem created by the NRICH project at the University of Cambridge. The staff at Explore were very impressed with Team Thurstonland's perseverance with the challenge. They could clearly see each team member overcoming barriers, and not letting the challenge bring them down, but rather using it to showcase their fantastic hard work. They were also pleased with how each team member systematically worked through the problems and were able to clarify each other's thinking.
Kiran, from the Explore team, came to our school to present Team Thurstonland with their certificates and commend them on their performance.