National Coal Mining Museum Trip
National Coal Mining Museum Trip
18 July 2019 (by admin)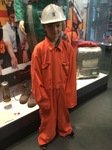 The whole school have enjoyed a day at the National Coal Mining Museum, learning about what life was like for children living in a mining community.
They enjoyed a workshop, nature trail, the adventure playground and meeting the ponies.
Follow the link to read more about our day out and to look at the photographs.