Buy a Brick!!!
Buy a Brick!!!
10 May 2019 (by admin)
This week sees the start of our Buy a Brick fundraising campaign!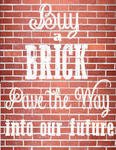 This week we launched our Buy a Brick campaign to raise funds for our impending barn extension which starts shortly and will continue into the summer break - ready for Reception & Year 1 class to move into in September!
If you would like to help support our school and have a lasting legacy of your donation on display once the extension is complete please follow the link below to the donation form on the PTA page.
Thank you in advance for any support you are able to give - it is greatly appreciated!!