Young Voices 2019
Young Voices 2019
14 January 2019 (by admin)
Year 4/5 class pupils take part in the biggest school choir concert in the world!!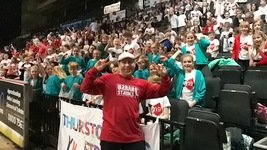 Year 4/5 pupils enjoyed a fantastic afternoon and evening at Sheffield Arena on Friday 11th January when they participated in the Young Voices concert.
Supported by some amazing artists (including Tony Hadley from Spandau Ballet!) the children performed brilliantly along with the thousands of other children from schools in our area.
Young Voices concerts are the biggest school choir concerts in the world and sell out venues year after year. The children love taking part and certainly have a day to remember.
Follow the link below to view more photographs on the Year 4/5 class page.