Spirefest 2021!! Fundraising for St Thomas Church window repairs
Spirefest 2021!! Fundraising for St Thomas Church window repairs
15 June 2021 (by admin)
A summer of fundraising events to raise money towards the repairs needed to St Thomas Church window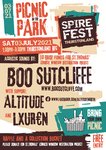 The Thurstonland Music Event Team is pleased to present the Spirefest Picnic in the Park and Spirefest Picturedrome, Holmfirth, both raising funds for the east window in St Thomas' Church which as you may know is in urgent need of repair.
Commencing the festivities is the Picnic in the Park on the Thurstonland Rec on Saturday 3rd July (appropriately St Thomas' Day) from 1.30pm to 3.30pm. Come along and bring a picnic or pre-book an Afternoon Tea (limited numbers) via Janet Wiltshire. We have 3 local acoustic acts – Boo Sutcliffe, Altitude and LXUR€N who are giving their time free gratis to support the event.
We will be selling raffle tickets with a selection of great prizes including a first prize of £100 and also holding a bucket collection on the day - so please bring all your loose change to support this worthy cause.
NB -The raffle will be drawn on Monday 30th August
image.png
image.png
On Sunday August 29th, we then have six amazing local acts performing live at the Picturedrome from 3pm (doors open 2.30pm).
Headlining is the "funkiest band in town" Sass and the Groove so get ready to boogie until late.
Also performing are:
- the Swing of Things, performing hot swing from around the world;
- local singer/songwriter Boo Sutcliffe who has just released his highly acclaimed debut album 'Blink';
Regeneration – Thurstonland's own 'regenerates' – dads 'n' lads bringing you timeless rock 'n' roll from Eddie Cochran to The Vaccines;
Sidelines – a talented young local band performing rock and indie hits from Muse, Killers, Bastille and more;
And commencing proceedings
The First Ones – a "3 piece kick ass punk band with hooks coming out of your ears!"
Tickets available from picturedrome.net
Picturedrome Holmfirth Music Venue
The North of England's finest intimate Music Venue, Holmfirth, Huddersfield
picturedrome.net
or use the QR code on our poster!
We look forward to seeing you there!
Thurstonland Music Event Team