Nativity performance 2020
Nativity performance 2020
15 December 2020 (by admin)
A video of our Nativity 2020 at Thurstonland First School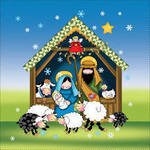 This year we were unable to have our usual well attended gathering for the school Nativity performance in St Thomas Church so we did the next best thing and performed some of the songs outside!
Reception & Year 1 dressed in their Nativity outfits and sang 'Away in a Manger' accompanied by the Year 2,3,4 & 5 pupils. The older pupils then led the singing of 'Love Shone Down' to finish off.
Fortunately we didn't have any rain but it was very very cold so well done to everyone for your lovely singing and outstanding effort! This was the first school performance for our younger Reception pupils and they did an amazing job!
Please select the link below to view the video......we hope you enjoy it!