Remembrance Day 2020
Remembrance Day 2020
11 November 2020 (by admin)
Each of our Year groups have taken part in acts of Remembrance today.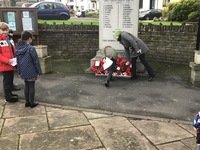 Our younger pupils attended the Memorial in the Village at 10.30am to lay their class cross and their painted Remembrance pebbles. They have been learning about Remembrance Day this week and doing different activities. Please visit their class page to view some of their work.
Shortly before 11am the rest of our pupils walked on to the Memorial to take part in a short service led by Ms Robinson. A wreath was laid and one of our pupils read 'Flanders Field'.
Our Year 4 and 5 pupils sang 'Remember' at the service. Please visit their class page to watch a video of them practising.
We were honoured to have Mr Clifton play The Last Post to commence the 2-minute silence and Reveille to end our Service.