Class News
Welcome......
Welcome to the class page for Year 2 and Year 3.
Our morning activities focus on English, Maths and Reading. Our afternoons are different each day:
Monday: Topic and Whole School Assembly
Tuesday: Handwriting, TT Rockstars and PE
Wednesday: RE and PSHCE
Thursday: Topic, Georgraphy, History, Science and Singing Assembly
Friday: PE and Well Done Assembly
Sometimes our activities vary to accomodate special events.
This page will be updated throughout the school year with news and pictures of events and activities in class.
Tropical Butterfly House Wildlife And Falconry Centre
We enjoyed a visit to the Tropical Butterfly House, Wildlife and Falconry Centre in Sheffield in July to compliment our topic work.
Whilst there we enjoyed two talks and were able to hold some of the animals (some of the adults were a little scared!)
A Bit of Local History
Mrs Firbank was lent some embroidery work from an ex-pupil of Thurstonland First School who attended in the 1800's. The children were amazed at how small the stitches were and how good the work was for the child's age at the time.
Mrs Firbank also did some further investigation and was able to discover where in the village Alice had lived and who she went on to marry.
Visit to Runlet Wood
The class enjoyed a wet but informative visit to the local wood!
"After a busy hunt we were rewarded with a drink and a biscuit. We also had a nest building competition. No hands allowed, only tweezers to mimic a birds beak. We now have a lot of respect for those clever birds!"
Magical Machines!!!
Year 2/3 made some fantastic magical machines as part of their recent topic work and invited the Year 4/5 class to come down and take a look at them.
'Scratch' & Little Robots
Years 2 and 3 used 'Scratch' and little robots to learn about computer programming.
Yorkshire Sculpture Park
We braved the wet and windy weather and went to the Yorkshire Sculpture Park on 12th March to support our topic work.
Our main focus was 'Family of Man' by Barbara Hepworth and we have made our own clay models based on her work. We have also done charcoal drawings and silhouette art.
We have used our trip as inspiration for the writing and creation of a comic strip.
The Mousehole Cat who Loves to Eat Fish
Our Literacy topic has focused on the Mousehole Cat who loves to eat fish! We have been sewing fish and have created a display.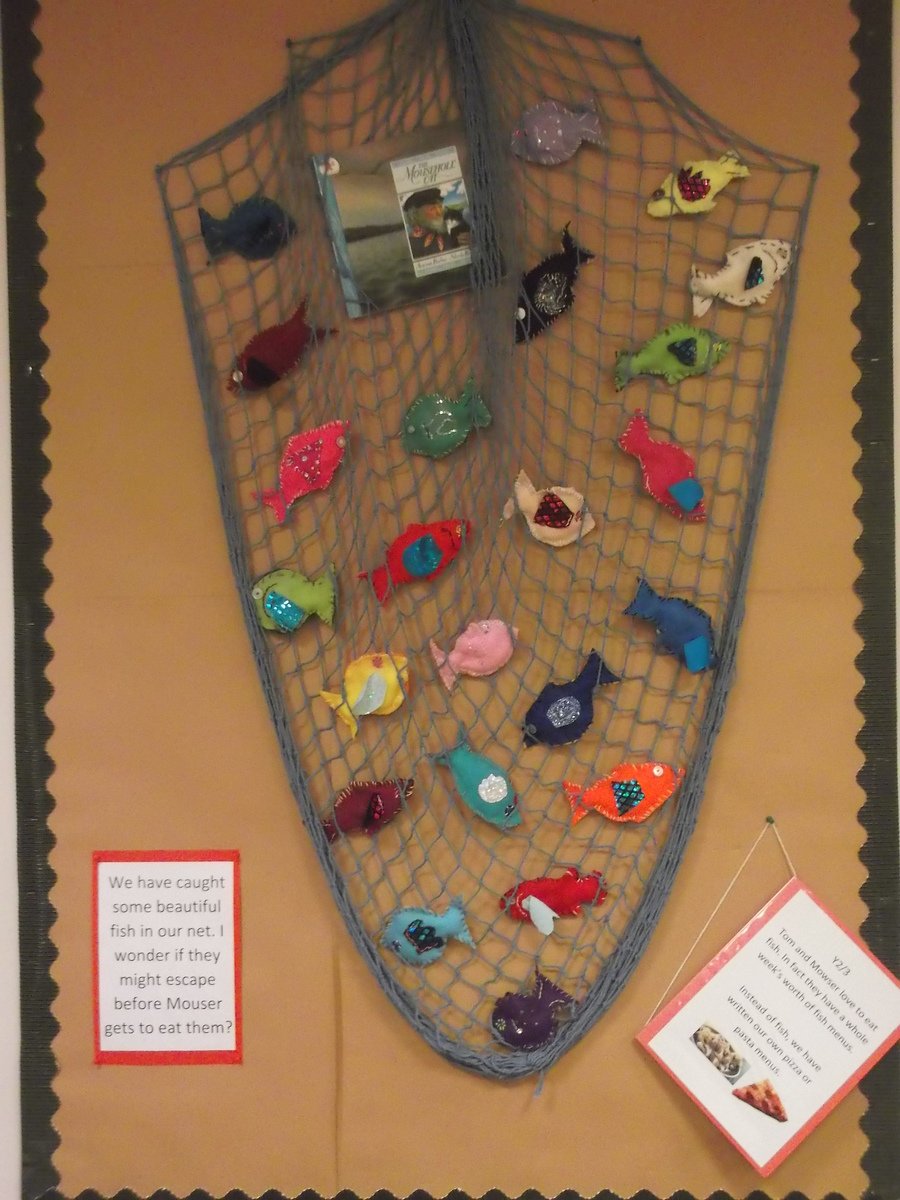 National Apple Day
To mark National Apple Day and to support our learning about food miles we baked some apple muffins and a tray bake.
Year 2 Multi-Skills
On the morning of Wednesday 17th October our Year 2 pupils attended Shelley College to take part in the Multi-Skills Event.
The children were fantastic and it was great to see them take part in a variety of multi-skill activities and work with different children from other schools within the pyramid.
A special mention was given by the organisers to the children that attended the morning session as their conduct during the fire alarm was superb!
Thank you also to all the parents who helped, either with transport or at the event - as always, it is much appreciated.
Class newsletters