Children In Need, November 2018
Children In Need, November 2018
22 November 2018 (by admin)
The children had lots of fun raising money for Children In Need on 16th November. There was a bun sale, spotty non-uniform day and a duck race!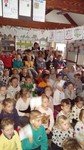 The School Council judged all the staff outfits to see who was the best dressed, with Mrs Kershaw winning the prize - well done!

It was nerve racking as the start time for the duck race drew closer and Miss Norris and Mrs McFarlane struggled to find the channel to watch it on! What a relief when it was found with seconds to spare! There was lots of cheering, flag waving and excitement as the race got underway - our winners of the sweep stake each had a special Children In Need bun to celebrate.

Through the generosity of our parents, staff and pupils we were able to raise £176.37 – thank you for supporting the event.