Remembrance 2018
Remembrance 2018
9 November 2018 (by admin)
The children in Years 2,3,4 and 5 walked to the War Memorial in Thurstonland yesterday morning for their Remembrance Day Parade. They all carried one of the poppies we have made in school and planted them around the Memorial.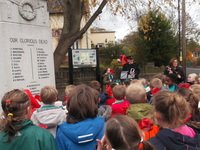 Whilst at the memorial Olivia in Year 3 read the poem 'In Flanders Field' before Mrs Semple's dad played 'The Last Post' on the cornet. This was followed by a two minutes silence which was brought to an end by 'Reveille' played again by Mrs Semple's dad.
Our younger pupils held their own Memorial Service in the playground.
We hope you get chance, over the next few days, to see the poppies around the War Memorial and in our playground. We will be bringing them back to school on Monday.
Thank you for sending in all the plastic bottles which we used to make our poppies and thank you to Mrs Smith for organising the mammoth task of making 70 poppies in school!
For more information about Remembrance Day in school and photos please follow the link.