Cross Country events
Cross Country events
26 September 2018 (by admin)
More success at Cross Country running!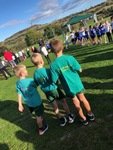 We are a speedy bunch here at Thurstonland! The last few months have seen some great cross country results - starting with our success at Neiley and continuing into the new school year with the latest events at Thurstonland and Shepley.
Take a look at the link below to the PE Activities page for further details....