World Down Syndrome Day 2018
World Down Syndrome Day 2018
14 March 2018 (by admin)
Every year World Down Syndrome Day is celebrated on March 21st.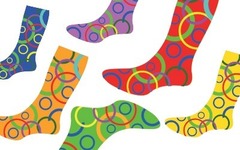 People with Down's syndrome from the UK and around the world will be gathering at the UN in New York and Geneva to share their stories, highlight how their communities can be more inclusive and discuss ways to empower people with Down syndrome to advocate for their own rights and opportunities.
We will be showing our support and raising awareness of Down's Syndrome by wearing LOTS OF SOCKS! Coloured socks, patterned, stripey, spotty or odd - you name it - just lots of socks!