Visit to Thurstonland War Memorial
Visit to Thurstonland War Memorial
14 November 2017 (by admin)
Pupils in Years 2 - Year 5 visited the war memorial in Thurstonland village on Friday 10th November.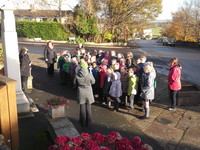 Pupils and staff took the short walk to the village war memorial on Friday morning to lay a wreath and crosses in remembrance of those who lost their lives.
Please select the link below to view more photos.