School Games award
School Games award
27 June 2017 (by admin)
Thurstonland First School achieves silver success!!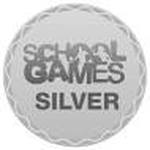 We are delighted to announce that we have just been awarded the silver level School Games mark!
This recognises the quality of the sporting provision within our school during the 16/17 academic school year.
Well done to all our children who have worked hard participating in the many exciting sporting activities during the past school year.
We would also like to thank all our staff who help to co-ordinate and organise the sporting activities, along with parents who come along and support whenever they can or provide lifts or assistance.
Thanks also go to the staff and pupils of our local schools such as Kirkburton Middle and Shelley College who kindly organise some of the fantastic sporting events for our children.